Scott's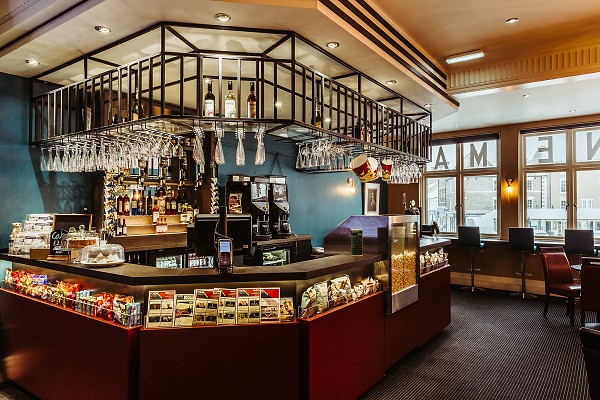 Scott's, our beautiful first floor licensed café bar overlooking the Market Place re-opened in June 2017 following a major refurbishment.
Why not come and enjoy a glass of wine, a cup of tea or a pint of Allendale ale and keep an eye on the world outside!
Our normal opening hours are from 10am on Tuesdays and 11am on Saturdays, and from 1.30pm on all other days.
We try to use local suppliers and products as much as possible. We serve delicious coffee and freshly baked cakes, sumptuous ice creams from Deli @number 4 and Doddington Dairy and a wide range of chilled drinks, wine, beer, sweets and popcorn. On Tuesdays we also serve freshly made sandwiches.

With plenty of seating, views over the Market Place and free wifi available the café is a lovely setting to catch up with friends or to relax after a day at work.
All our drinks and refreshments can be taken into the auditorium.
We do not allow glasses into the auditorium for the safety of our staff and customers in case of breakages, so our drinks are served in reusable plastic glasses and we do ask that these are returned to the trolley or the cafe before you leave the cinema.
Why Scott's? The Forum was owned by the Tynedale Entertainment Company from its opening in 1937 until it closed for a short time in 1974. During all of this time it was managed by Tom Scott, father and son, and this lovely space was the manager's office!