The Dam Busters at 75: Live From The Albert Hall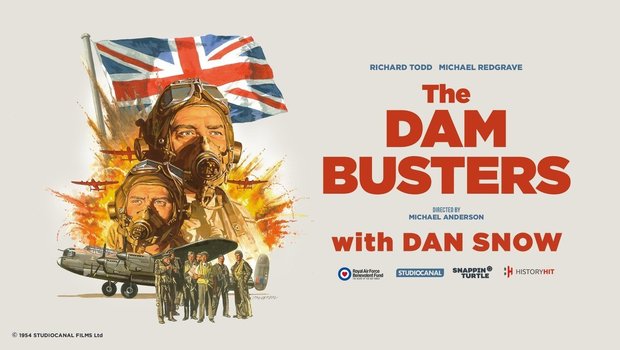 Book Tickets
Click a time to book tickets
Info

Please be aware that there are no trailers before the performance.

Synopsis

Regarded as a British classic, The Dam Busters is directed by Michael Anderson (Logan's Run/Around the World in 80 Days). Based on the legendary true story of Commander Guy Gibson and his squadron, The Dam Busters (1955) captures all the thrilling action and suspense of the magnificent exploits of a group of young pilots and their crews, charged with taking out the supposedly impenetrable Ruhr river dams of Germany with an ingeniously designed bouncing bomb.




Scientist and engineer Dr Barnes Wallis (Michael Redgrave) believes destroying Germany's Ruhr dams can paralyse the enemy's industrial nerve centre, thus shortening WWII. After much persuasion, permission is finally granted to develop the bombs and aircraft capable of such a task and a special squadron is drafted in to carry out the raids.




Live at the Royal Albert Hall, Dan Snow is joined on stage by the Glenn Miller Orchestra plus special guests including family members of both Dam Busters crew and the film's director Michael Anderson, historian Paul Beaver and Professor Hugh Hunt as they explore the history of the iconic raid and how it led to the making of a classic British film. The audience will include former members of the iconic 617 Squadron as well as current members of the Royal Air Force. Also witness an on stage 'bouncing bomb' experiment as we reflect on the science behind Barnes Wallis' invention. This section will end with a stirring rendition of The Dam Busters March by the Glenn Miller Orchestra.